Me with Kendrick the wasp, whom we had found trying to get warm in the fridge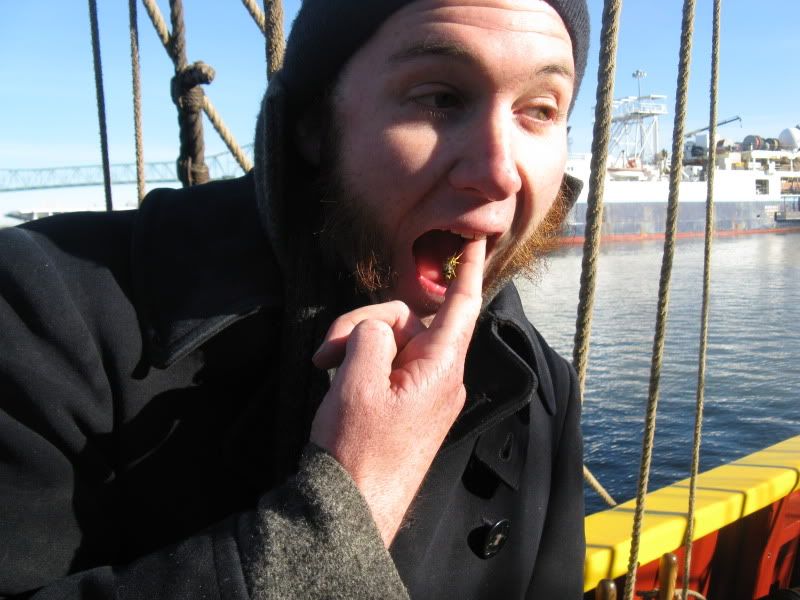 Trying to warm Kendrick up.

/ giving the poor girl a terrible fright that she's going to be eaten ;)
In ironic news, while writing yesterday's LJ Idol entry about feeling like part of the crew and how nice it was to go to that couple's house .. I apparently missed out on joining the group that went there that night. Oops.
But on the plus side I'm there right now (Saturday night). They're really the nicest people ever. They welcome us salty sailors into their living room and chat with us all evening while bringing out hot chocolate and cheesecake! (Today only myself and
i_id are here)

Monday morning at 04:00am we are leaving Astoria to head through "The Graveyard of the Pacific" to Westport up north. It's supposed to be at least a 20 hour transit but rough conditions can apparently make it much more. We've reviewed emergency procedures, counted lifejackets, practiced putting on immersion suits, and the captain has ordered plenty of barfbags to be prepared (the entire crew has been on the Colombia River for months now so rough seas will be a new thing for many of them). "Crossing the bar" to get out of the Colombia River is notoriously dangerous and according to wiki, "Since 1792, approximately 2,000 large ships have sunk in and around the Columbia Bar."

Additionally, for the transit we'll be breaking into "4 on 4 off" watches (whereas heretofore we've been more or less all working 08:00-17:00 and then all off*)

* though even when everyone is sleeping people still wake up to check the mooring lines every so often throughout the night at this dock.