So I spent my New Years Eve watching fireworks bursting over the Queen Mary, from the deck of the Tole Mour. On the shore jubilant drunk crowds of girls in short sparkling dresses and guys dressed their best thronged about. Separated a safe distance from these "glamorous" people, we had our own little island of tallshippies. A few hours of drunken revelry had taken it's toll on most of the costumes, so people were by now missing critical props, but we were all definitely dressed delightfully oddly. Flogging Molly played from the ship's sound system.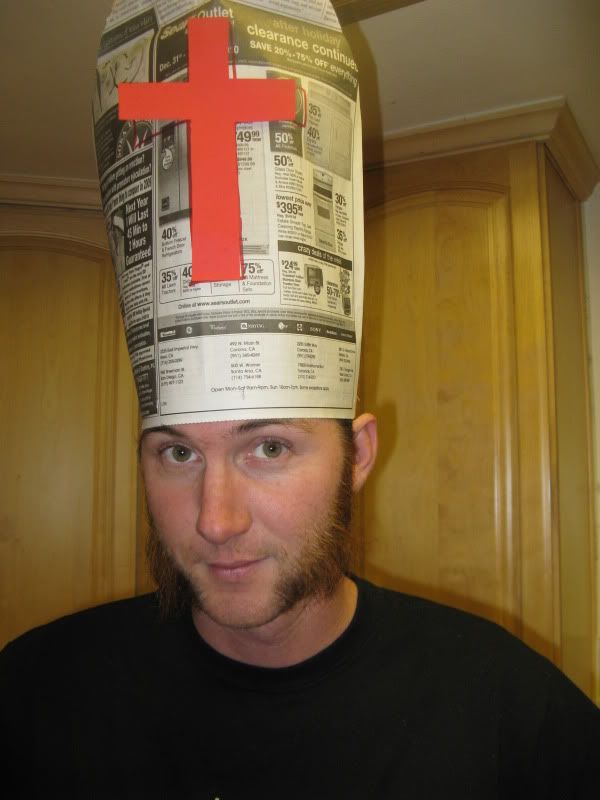 I just made myself the pope hat pictured above. Other costumes included a pilot, a polynesian, "the party," pinrails (by taping a diagram of the Hawaiian Chieftain's pinrails to himself), and my favourite: a fellow wore a mostly unbuttoned flannel shirt, messed up hair, and was covered in lipstick kiss marks -- he was "post-coital!"
Present at the party we had the crew of the Tole Mour herself ("largest tallship on the west coast," with 124 foot deck length), the crews of the Ixy Johnson and Irving Johnson, the crew of the Hawaiian Chieftain, and myself and our captain and bosun from the Lady Washington. Among the other crews I additionally met three characters whom had previously been crew on the LW and I had heard stories about.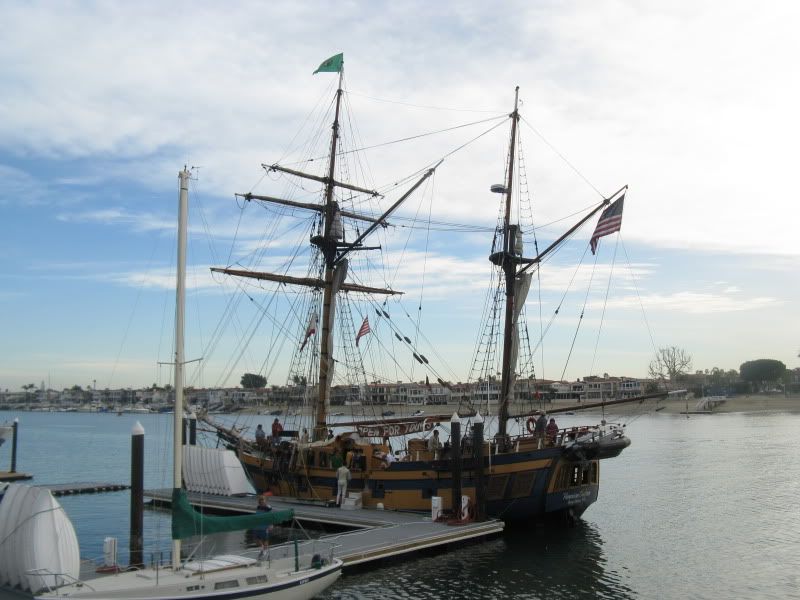 But let's rewind a bit. I had only found out about this party earlier in the day when I ventured over to the Hawaiian Chieftain (pictured above) and they welcomed me as fellow crew and invited me to the party.
My actual evening began by visiting
gratefuladdict, who happened to be staying at a hotel not far from me and feeling sick. ): So I hung out with her for a bit. Incidentally I had spent the previous New Years Eve with her.
Then I went and collected crewmembers from the HC in Newport Beach(another carload had already left. Car-rides are always in short supply for the crews) and we headed up the coast highway to Long Beach.
I was planning on still trying to make an appearance at my friend Mark's party, which was nearby, but before I knew it there wasn't enough time to make it there and back before midnight. After midnight I was still planning on making an appearance, but before I knew it it was 2am and Mark wasn't responding to texts asking if the party was still afoot.
As a consequence of always planning on taking off across town soon I only ended up drinking one beer, failing miserable at the traditional new year's goal of getting trashed.

At around 11:58/59 we all realized none of us had a timepiece that gave seconds, making a countdown impossible! We were all in the midst of a panic over this when the fireworks burst out above the illuminated stacks of the Queen Mary and the crowds ashore burst into jubilant cheers and shouts. Someone hastily initiated a countdown of 3, 2, 1..!! and we considered that our midnight. Didn't have anyone to kiss at midnight (much like my year, the overwhelming majority of which I've had no love life to speak of ): ), but called a favourite young lady of mine who lives rather far away right after our countdown.

Altogether it was a very fun evening though. It will definitely be memorable, spending new years amid the creaking of mooring lines and the red night-vision deck lights. I feel right at home among the tallshippies (a word I just made up for tallshipcrewpersons). In particular I really like the crew of the HC. I love my crewmates from the LW, but I feel like the crew of the HC made me feel like I was a member of their crew much more immediately than the LW crew had. They've been encouraging me to join their crew for the trip back up north (I'd do it in a second if it weren't that I rather need to make some money), and invited me to come sailing with them tomorrow (Saturday) (I'll at least take them up on that!).

But yeah. New Years 2009/2010. What better way to spend it than on a tallship. (: