One of my favourite things about livejournal is the feedback one gets about one's writing (/photos / drawings). This feedback comes not just in the form of actual "I liked this" or "this was crap!!" comments, but more commonly in the number and variety of comments themselves. I write to be read and constantly aim to improve, so I'm constantly taking note of all forms of feedback that I can. In fact as you may or may not recall this very livejournal started out as an experiment in gauging people's reactions to varying different variables in entries.

One generally assumes that comments are indicative of people enjoying an entry and/or finding it interesting. When you get no comments and just hear the crickets chirping, it's time to be worried.*

After posting the link to the completed drawings about my day yesterday I got exactly two more comments all day. This is way below par. To better serve you we here at Emo-snal are interested to know why that was.

* or your audience might have died, as happened with the oriented-towards-people-from-real-life
emosnail before my embracing the anonymous masses here. The friends-list of Emosnail, once veritably spinning with entry turn-around, is now a slow trickle, and entries I post over there more often than not get no comments at all. That low of a turn out is extremely unusual, so I'm curious if you all hate my drawings and I should never do it again or something.


Did you have one of the following complaints about the Emo-Snal Hourly Drawing Post?
Drawing quality too made-of-fail
Couldn't figure out what was going on in half of tem
Other: thought it was crap!
Had seen all eight installments the day before
Didn't hate it, but had no comments forthcoming
images too much bandwidth to load
was unable to see them adequately / am visually impaired
1 being "never again" and 10 being "lots moar!!" how do you feel about future such drawings appearing in Emo-Snal?
Mean: 7.17 Median: 8 Std. Dev 2.25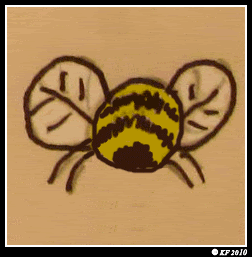 Bee from one of the cartoons, coloured, and, just for Stacey, bee butt!

See also, my new icon!